In 2021, food packaging is an extremely important part of the food business. With the shift to "take-out", most restaurants and food services have had to source more food packaging and containers.
If you are in this situation, or if you are looking to expand your service offering, we have detailed the different categories of food packaging and their materials to make it easier for you to make a more informed choice.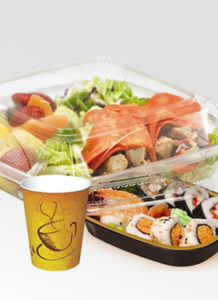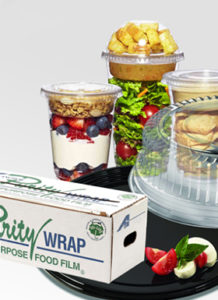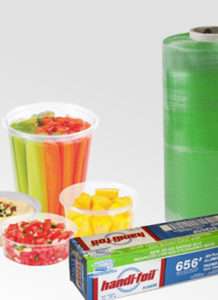 Food packaging products
Today, there are many food packaging products to choose from. You may find it difficult to choose food packaging products for your business as there are so many options. That is why you need to analyze your needs and many other elements first.
Food packaging can be categorized into two different classifications: by type of packaging material and by functionality of the packaging.
But, before you choose a package, you need to establish your needs in this regard. Are you looking for containers, bags, utensils, cups or even plates? Do you prefer plastic, aluminum, paper or even cardboard containers?
In addition, there are eco-responsible, eco-friendly and biodegradable packaging, is this an option that interests you more? It is for these reasons that you must determine your needs before exploring the different food packaging available on the market. 
The different types of food packaging products
Food packaging products vary from one supplier to another. For example, if we look at the inventory that the supplier Ralik has, the variety of food packaging that they carry is quite impressive.
Ralik commercial supplier holds products like containers, lids, bags, plates, boxes, utensils, bowls, cups, trays, etc. Most of the packaging products we have just listed are also available in plastic, cardboard, Styrofoam, paper or even aluminum. As you can see, you have a wide range of products to choose from.
View our wide variety of food packaging products.
How to choose the right products
What is your budget?
Whether you are a restaurant owner, a caterer, a baker, etc., your products and the food you prepare for your customers do not go anywhere without packaging. However, your budget can have an impact on the packaging you choose, the quantity you order and the supplier you select.
For example, if you have a tighter budget, you need to find ways around this and choose the right packaging company that will help you do so. Find a packaging company that offers low minimum orders or even offers several packaging products at different prices. Or if, on the other hand, you have an unlimited budget and want to order the best products and in large quantities, choose a supplier that will allow you to do so.
How much storage space do you have?
Your storage capacity is an important consideration and likely defines the size of your orders and potentially the food packaging products you choose to order. Whether or not your packaging budget is sufficient, you may not have the space to stack and store all of the required packaging.
When looking for a food packaging supplier, the flexibility to order different quantities can be very beneficial. This will allow you to better manage your storage space (and packaging costs), while ensuring that your customers' orders are packaged properly.
What type of packaging are you looking for?
When deciding on the type of packaging you are looking for, there are two things to consider: quality and material.
The quality of food packaging can vary, often depending on the material it is made of. You can get products that are more resistant than others. Or you may get products that retain heat or cold better than others, depending on the material they are made of. Conditionally to your budget and needs, the quality and material of food packaging products will vary.
Customer experience as a priority
Another important factor in your decision is the service your supplier provides. For example, if delivery times are long and you forgot to place your order for food packaging products, you'll find yourself in a rather unpleasant situation or you'll be forced to find a solution. However, if you have a supplier that offers fast delivery and outstanding service, a weight is lifted off your shoulders.
Making an environmentally responsible choice
These days, environmentally responsible and eco-friendly food packaging choices are becoming more and more prevalent. At Ralik, we are sensitive to environmental issues and do our best to offer our customers the best options for our planet. That's why we are proud to offer an entirely ecological product line. Thanks to our suppliers, we are able to offer increasingly eco-friendly food packaging products.
Consult our ecological food packaging products.
Ralik, listening to your food packaging needs
When your priorities are determined and your needs are analyzed, you will be able to determine the best food packaging products for your company and the best commercial supplier for the products you are looking for. Your criteria could be, for example:
Delivery times
The variety of food packaging products available
Variety of quantities available
Customer service
A transactional site available 24 hours a day, 7 days a week
Environmentally responsible products
A local company, etc.
At Ralik, we are confident that our company will meet all your criteria for food packaging products. For business owners and procurement managers, Ralik is your trusted partner specializing in the sale and distribution of cleaning, packaging, shipping and security products.
Ralik distinguishes itself by putting the customer experience at the heart of its actions and decisions. Established for more than 20 years, Ralik stands out for its reliability, accessibility and simplicity, which make the company a distributor that offers peace of mind, the possibility of saving time, and access to undeniable expertise.